salad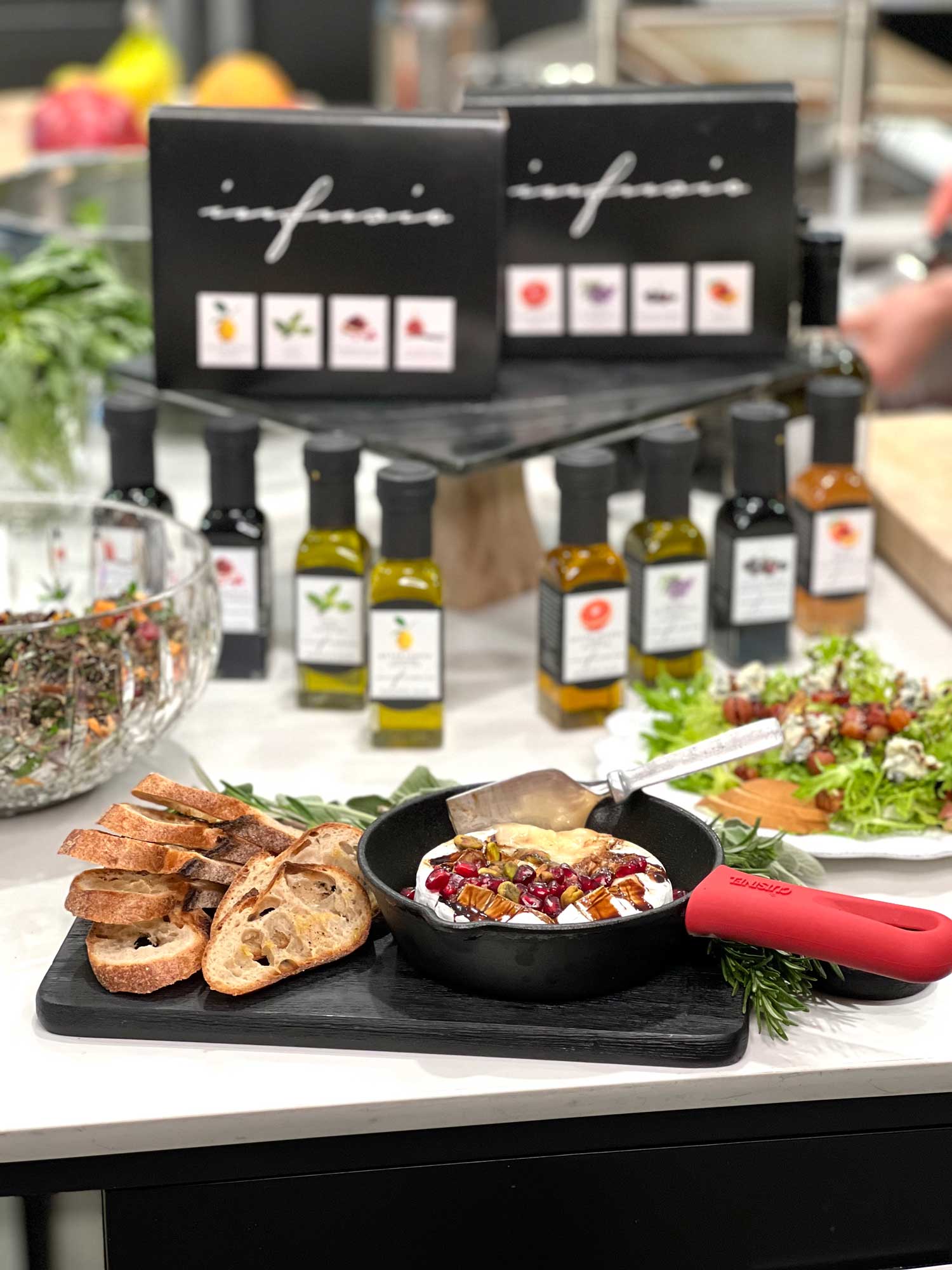 INFUSIO SHOW 12/14/22 3
Here are some wonderful recipes from Caroline. Brighten up your holiday starter, salad and side dishes with delicious INFUSIO Olive Oils and Balsamics!
---

BAKED CAMEMBERT WITH PISTACHIO & POMEGRANATE


This decadent appetizer starts off your holiday meal with a festive, melty, creamy hot cheese infused with pomegranate and pistachios. Serve with crackers or toast points for an absolute knock out!
1 whole Camembert (or Brie)
Toasted pistachios
Pomegranate seeds
1 baguette, sliced and lightly toasted
Fresh rosemary, for garnish
Fresh sage, for garnish
Preheat oven to 350 degrees.
Place the wheel of cheese into a small cast iron skillet or oven-proof serving dish. Score the top of the cheese by piercing through the top skin of the cheese with a knife in a crisscross pattern. Drizzle INFUSIO Pomegranate Balsamic over the score marks.
Place into the oven for 10-12 min, or until the center of the cheese is soft and gooey. Meanwhile, arrange the herb garnishes onto a heat-proof serving board with the toast points, leaving a spot for the container with the warm cheese. 
When cheese is hot, carefully remove skillet from oven and place onto the serving board. Top the hot cheese wheel with a handful of pistachios and pomegranate seeds. Serve immediately while the cheese is warm and gooey.
---

FRISEE SALAD WITH PEAR, BLEU CHEESE & HAZELNUTS
This beautiful winter salad is as pretty as it is delicious! Use a variety of colored pears to decorate with hues of green, red and brown. The kiss of the INFUSIO Vanilla Fig Balsamic pulls it all together. It's the perfect salad course for Christmas dinner.
8 oz. pancetta, cubed
1-2 heads frisee (or red leaf, butter or green leaf)
3 pears (1 each Bosc, D'Anjou, Ranier), thinly sliced
6 oz. St. Agur blue cheese (or Roquefort)
Sea salt & freshly cracked black pepper
Handful of cracked hazelnuts, toasted
Heat a heavy-bottomed skillet on medium high heat. Add the pancetta and allow the fat to render out while it becomes golden and crisp. When uniformly cooked, remove pancetta from the rendered fat and set aside to drain on paper towels.
Place the lettuce into a salad bowl and drizzle with INFUSIO Herbs de Provence Olive Oil. Season and sea salt and freshly ground pepper. Arrange onto serving dishes, then place the pears around the edges. Evenly distribute the pancetta among the salads, then top with crumbles of cheese. Drizzle thin ribbons of INFUSIO Vanilla Fig Balsamic over the top of the salads. Lastly, garnish with toasted hazelnuts and serve.
---

FESTIVE WILD RICE
 
This festive rice dish makes the perfect side to a holiday roast, turkey or duck! It's colorful, flavorful and dresses up the plate. The chopped herbs really brighten the flavors and the INFUSIO Blood Orange Olive Oil adds a subtle citrus note. Make enough for leftovers!
8 oz. wild rice, prepared per package instructions
2 garnet yams, cubed
Extra virgin olive oil
Sea salt & freshly ground black pepper
¼ cup dried cranberries
1 bunch basil, stemmed and thinly sliced
1 bunch tarragon, stemmed
1 bunch Italian parsley, chopped
Prepare rice and set aside.
Preheat oven to 350 degrees. Place the cubed yams onto a baking sheet and drizzle with olive oil, sea salt and pepper. Roast in the oven for about 40 minutes, or until toasty. Set aside.
Place the warm rice into a serving bowl. Add the roasted yams and cranberries. Drizzle with INFUSIO Blood Orange Olive Oil, sea salt and pepper and toss until well combined. Add the fresh herbs and toss to combine.