EASTER RECIPES!
EASTER RECIPES!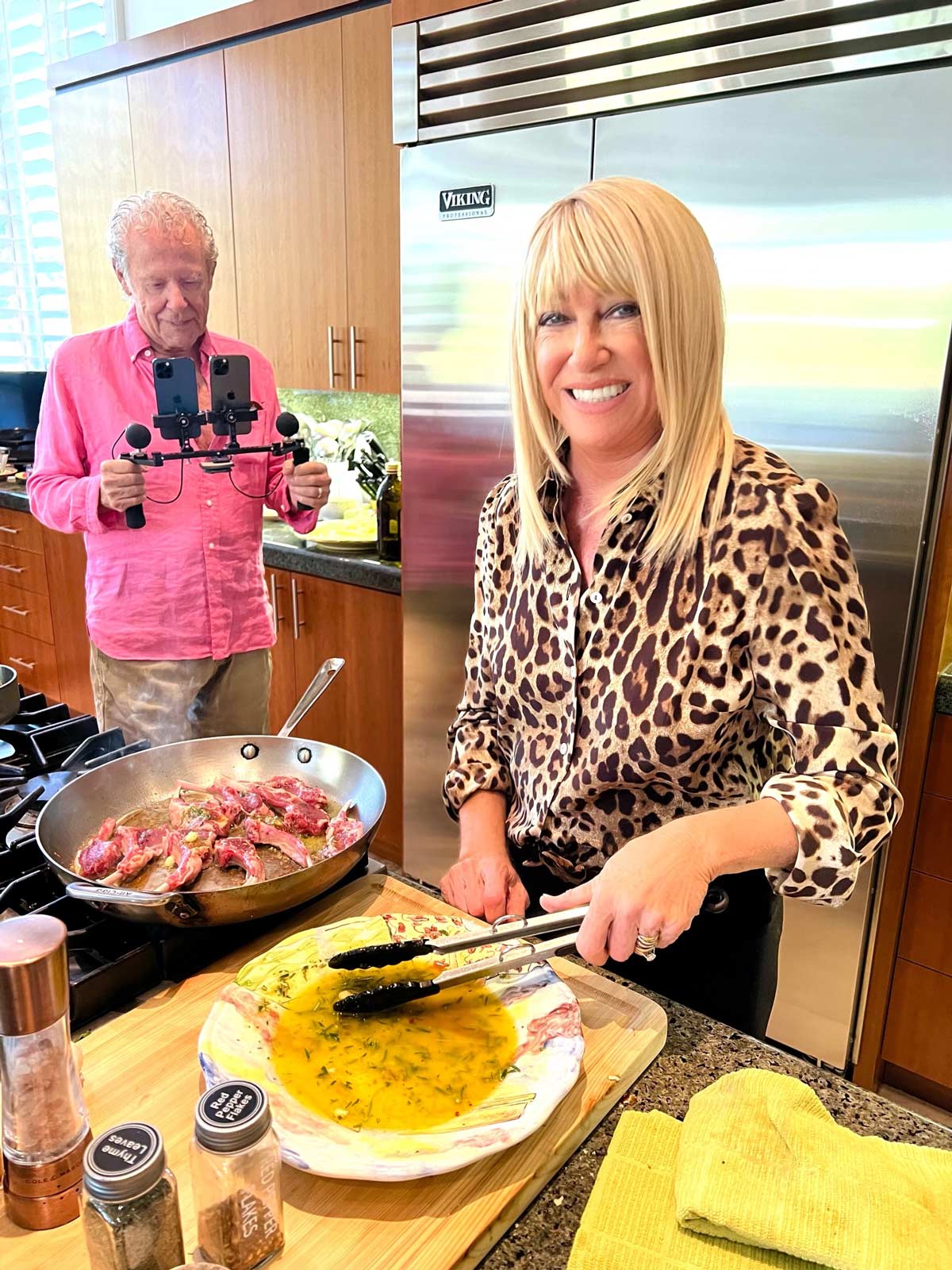 I had so much fun with my daughter-in-law, Caroline, preparing this abundant Spring feast! These recipes are perfect for Easter lunch or dinner or any Spring celebration you want to share with family or friends. INFUSIO Olive Oils and Balsamics add amazing flavor profiles and allow you to turn beautiful ingredients into chef-worthy creations. From my family to yours, Happy Easter, Happy Spring and enjoy this beautiful food!
CRISPY PROSCIUTTO RICOTTA CROSTINI
1 pint full-fat ricotta cheese
2 tablespoons INFUSIO Tuscan Olive Oil
Sea salt and freshly ground black pepper
4 thin slices Prosciutto de Parma
12 crackers (Raincoast Crisps or toasted slices of baguette)
Place the ricotta in a small mixing bowl. Add the INFUSIO Tuscan Olive Oil plus sea salt and pepper. Stir to combine. Set aside.
Place a saute pan on medium high heat. When hot, add the prosciutto in a single layer. (No oil is needed since the prosciutto has enough fat.) Crisp for about 2 minutes, then turn and crisp the other side. Watch the heat so the prosciutto doesn't burn. Remove and set aside.
Arrange crackers or toast points on a serving platter. Spread the ricotta onto each cracker. Break off a piece of the crispy prosciutto and place on top of the ricotta. Drizzle a small amount of INFUSIO Vanilla Fig Balsamic on top and serve.
FENNEL BLOOD ORANGE SALAD
3 fennel bulbs
2 blood oranges
2 Cara Cara oranges (or your favorite orange)
2 ounces Pecorino Romano, thinly shaved
Sea salt and freshly ground black pepper
Slice the fennel bulbs and place into a shallow serving bowl. (Save a few of the leafy ends for garnish and set aside.) Drizzle INFUSIO Blood Orange Olive Oil over the fennel and season generously with sea salt and pepper.
Slice the blood oranges and Cara Cara oranges by cutting off each end with a sharp knife, then cutting off the peel and pith. Slice the flesh into rounds and place decoratively onto the fennel. Drizzle a small amount of INFUSIO Black Cherry Balsamic over the fennel and oranges. Then top with shaving of Pecorino Romano and garnish with the leafy fennel tops.
ROSEMARY LAMB CHOPS WITH POMEGRANATE GLAZE
12 single rib lamb chops
Sea salt and freshly ground pepper
¾ cup extra virgin olive oil
10 cloves garlic
2 tablespoons fresh rosemary (or 1 tablespoon dried)
1/3 cup INFUSIO Pomegranate Balsamic 
Season the lamb chops on both sides with sea salt and freshly ground pepper. In a food processor, combine olive oil, garlic and rosemary and pulse to combine. Pour marinade over the lamb chops and marinate for 30 minutes or as long as overnight.
Heat a large saute pan on high heat. When hot, add a little olive oil to coat the bottom of the pan. Remove the lamb chops from the marinade and place in a single layer on the hot pan.  Pan fry for 2-3 minutes, then turn and sear the other side for another 2-3 minutes. Remove from pan and set aside onto a serving platter.
Heat the INFUSIO Pomegranate Balsamic in a small saucepan. When it starts to bubble, remove from heat and spoon over the lamb chops. Serve immediately.
BASIL PARSLEY PESTO PASTA
Blanching the basil is the key to keeping your pesto from browning! Use this delicious pesto on pasta, chicken, steak, fish, tomatoes, and more – so versatile.  I like to make large batches and store in glass jars.
2 cups organic basil leaves, loosely packed
½ cup organic flat-leaf parsley, loosely packed
½ cup freshly grated Parmesan cheese
¼ cup toasted organic pine nuts
¾ cup organic extra virgin olive oil
1 garlic clove, minced
A pinch red chili flakes
½ teaspoon sea salt
Freshly ground black pepper
1 pound pasta
INFUSIO Basil Olive Oil
Set aside a water bath - small bowl filled with water and a large handful of ice.
Bring small pot of water to boil and add the basil leaves for 30 seconds to soften.
Remove immediately and plunge leaves into the ice water. After 30 to 60 seconds, remove the leaves from the ice bath, squeeze out excess water, and place into blender or food processor.
Add the remaining ingredients and puree until smooth. (Store in glass jars in the refrigerator for up to 2 weeks. If you plan on freezing the pesto, don't add the cheese until you thaw and are ready to use.) Makes about 2 cups.
Prepare pasta per package instructions, drain, and place into a large serving bowl. Drizzle the hot pasta with INFUSIO Basil Olive Oil, then add the pesto and gently stir until well coated. Taste for seasoning and add more salt, pepper or red chili flakes to personal preference. Garnish with fresh basil or parsley and serve.
ROASTED MEYER LEMON ASPARAGUS
2 bunches fresh asparagus
1 lemon, zest and juice
Sea salt and freshly ground black pepper
Preheat oven to 400 degrees. Trim ends of asparagus and place onto baking sheet. Drizzle with INFUSIO Meyer Lemon Olive Oil and season with sea salt and pepper. Place into the oven and roast for 10-15 minutes, depending on the thickness of the asparagus.
Remove from oven and grate lemon zest over the asparagus, then squeeze lemon juice over the top. Season again with sea salt and pepper and serve immediately.
WHITE PEACH PECAN YOGURT PARFAIT
1 pint plain full-fat Greek yogurt
INFUSIO Peach White Balsamic
Sugared pecans (or toasted pecans)
Pinch of Maldon salt
Mint sprigs, for garnish
Place yogurt into small serving bowls. Top with INFUSIO Peach White Balsamic, then a handful of sugared pecans. Add a pinch of Maldon salt flakes, garnish with a sprig of mint and serve.