Recipes
Recipes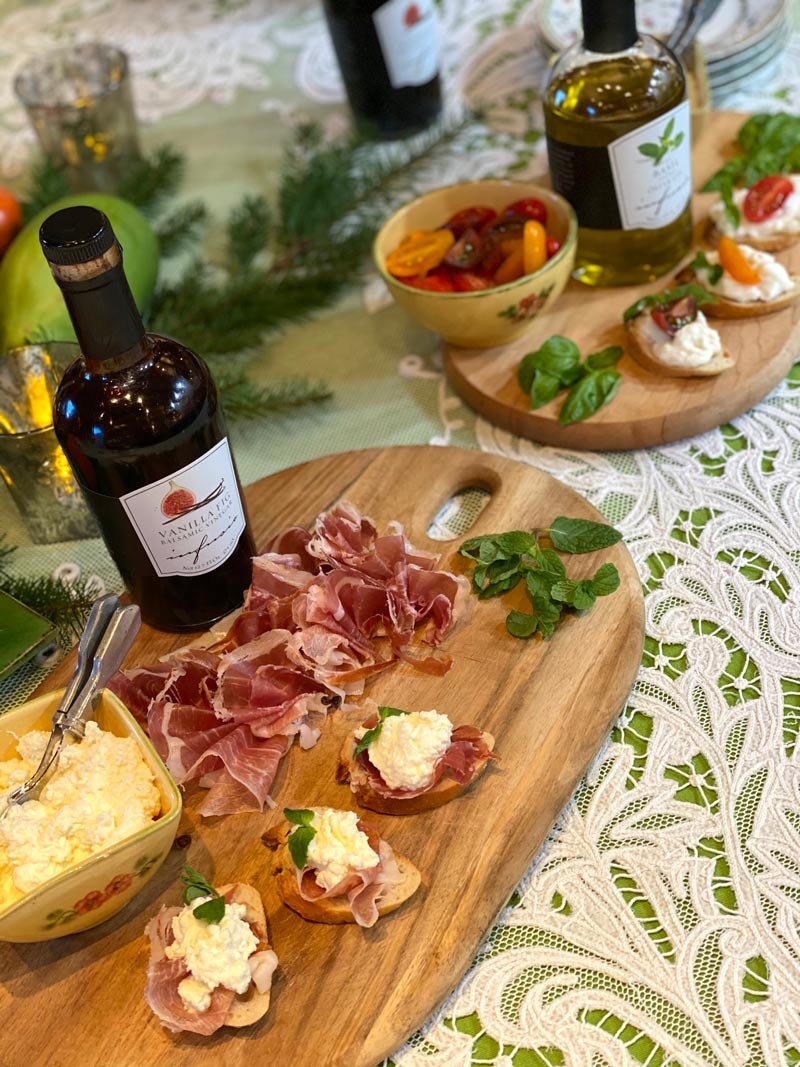 HOLIDAY FIRST COURSES 25
Many of us plan elaborate meals for the holidays, but get stuck on ideas for starters! Here are some delicious first courses that are loaded with flavor using INFUSIO Olive Oils and Balsamics. Served in the right portions, these decadent tastes will delight the palate without spoiling the appetite for the main course. INFUSIO products are available at SuzanneSomers.com.
---
RICOTTA PROSCIUTTO BRUSCHETTA
1 baguette, sliced
8 thin slices prosciutto
1 pint ricotta
Freshly ground black pepper
Fresh mint leaves, for garnish
Lightly toast the bread. Place a small piece of prosciutto onto the bread. Top with ricotta. Drizzle with INFUSIO Vanilla Fig and garnish with a tiny mint leaf.
---
BURRATA TOMATO BASIL BRUSCHETTA
Lightly toast the bread. Spoon a bit of burrata onto the toast point. Add a cherry tomato. Season with sea salt and freshly ground black pepper. Drizzle with a bit of INFUSIO Basil Olive Oil. Garnish with a sprig of fresh basil.
---
CAULIFLOWER SOUP with CRISPY SHALLOTS
¼ cup extra virgin olive oil
4 tablespoons butter + 2 tablespoons butter
6 shallots
1 head cauliflower, chopped
Sea salt and freshly ground black pepper
2-3 cups chicken broth, preferably homemade
1/4 cup pine nuts, toasted
Peel and thinly slice the shallots. Place a stock pot onto the stove on medium high heat. Add the olive oil and 4 tablespoons of butter. Add the shallots and saute. Once they start getting golden, reduce the heat to medium low and let them continue to get a deep golden color. Don't rush it – this can take 30-40 minutes. Once they are done, remove the crispy shallots from the pan and set aside to use as a garnish.
Using the same pan with the flavor of the shallots, turn the heat up to high. Add a touch more olive oil and the 2 tablespoons butter. Add the cauliflower to the pot. Season with sea salt and freshly ground black pepper. Saute the cauliflower for about 10 minutes, until it's well coated in the oil and butter. Add 2 cups chicken broth, cover and bring to a boil. As soon as it's boiling, test the cauliflower for doneness by piercing with a fork. When it's soft and easily pierced with a fork, turn off the heat and puree with an immersion blender (or transfer to a blender or food processor and blend).  If the soup is too thick, add more broth to get the right consistency.
Taste for seasoning. Adjust salt and pepper and add more butter, as desired. Serve in demitasse cups with crispy fried shallots, toasted pine nuts. Lastly, drizzle with INFUSIO Tuscan Olive Oil.
---
CHRISTMAS SPINACH SALAD with CRISPY PANCETTA and ROASTED BUTTERNUT SQUASH
1 butternut squash, peeled and cubed
Extra virgin olive oil
Sea salt and freshly ground black pepper
8 ounces pancetta, cubed
6 cups baby spinach
½ cup pecans, toasted
Preheat oven to 350 degrees. Place the butternut squash onto a baking sheet and drizzle with olive oil. Season with sea salt and freshly ground pepper. Roast in the oven until golden and cooked through, 30-40 minutes.
Place a saute pan on high heat. Add the pancetta and saute until the fat renders out and the pancetta becomes crispy, about 20 minutes. Pour off most of the fat, then return the pan to low heat. Add a drizzle of INFUSIO Black Cherry Balsamic just to warm.
Place the baby spinach into a salad bowl. Drizzle a small amount of INFUSIO Blood Orange Olive Oil and toss until lightly coated. Season with sea salt and freshly ground black pepper.  Place dressed spinach onto serving plates. Top with the roasted butternut squash. Using a slotted spoon, add a spoonful of the crispy pancetta. Drizzle a very small amount of INFUSIO Black Cherry Balsamic over the salad. Garnish with toasted pecans.